That's right, pitchers and catchers have reported to Spring Training! That means Opening Day is around the corner, and summer very shortly after. Aren't you excited?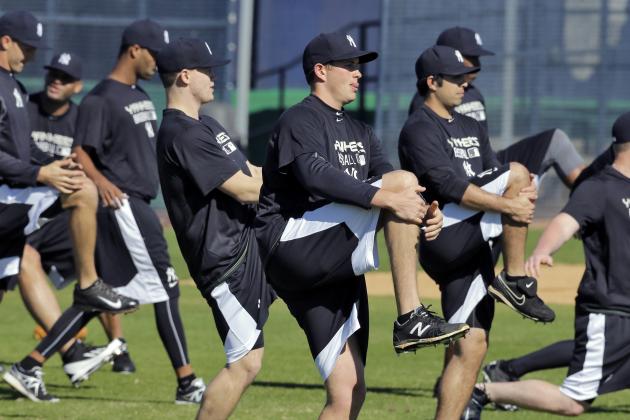 I make no secret about my Yankee fandom. I like to think it's one of my most endearing qualities. But this isn't a post about being a Yankee fan. Spring Training also means that softball season is about to start out here, but this isn't a post about that either.
No, this is a post about connection.
Every year, millions of fans of the 30 MLB teams prepare themselves for a summer of various levels of commitment to the idea that their team can win a title. Some fans will watch every game, most won't. Some fans will attend every home game, most won't. But on some level, everyone will have at least some interest in their hometown team. On some level people care. And on some level, people hope for the kind of unity victory brings.
I know this is true of all sports, but for some reason, it feels more true about baseball. And I think I know why.
Football, the players wear masks. Their careers tend to be short. And in most of those careers, teams that don't win out don't stay together very long. Basketball, the average length of time one player stays with one team is about five years. Baseball, however, teams are kept together for years, decades in some cases, and even the teams that don't stay completely together, there's never a wholesale turnover. There's continuity. And while the Yankees win most of the time, most teams spend at least some time being competitive. And you can always trace a link from one team's great player to its next through less than three degrees of separation. And it's something you can link directly back to your childhood. It's something I appreciate more now as I'm now so much closer to 40 than I am to 20.
For instance, one of my favorite players retired a couple of years ago, Derek Jeter. He came up to the majors in 1996, when I was turning 18 and going to college and drooling over college girls. 1996 was also the first Yankee championship of my lifetime. The year before Jeter came up, Don Mattingly -- longtime Yankee first baseman and the player I grew up idolizing -- played his final season in a career that started when I was three. He played most of his career on a team that had all-time base stealing champion Rickey Henderson and fellow Hall-of-Famer Dave Winfield. Winfield was brought to the Yankees in 1981 to anchor an outfield that featured Reggie Jackson, who was a member of the 1978 World Series Championship team that won when I was about two weeks old. And right there, I've just charted my entire life through one team. That is not a terribly rare occurrence.
It's a shame that the appreciation for baseball seems to be declining because that connection is declining. Connection with a home, with a city, with something that's not only bigger than you, but something that you can agree upon with your neighbor at a ballpark regardless of your station in life, your religious beliefs or even your attitudes about race. Two guys at Yankee Stadium wearing Yankee jerseys are both Yankee fans, and together for the three hours at the ballpark. They share a drink, they share triumph and defeat, they share opinions on which players suck. At the end it's over, and they go back to their respective lives, homes and differences of various levels, but in those few hours they were family of a sort.
They say baseball is something that's inherited, that fathers pass on to sons (or mothers to sons, or fathers to daughters, mothers to daughters, whatever). If I ever have kids and I can pass on an appreciation for baseball and all the commonalities fans have with one another, all the things we share at the ballpark, and how we directly connect one player to the next, and one moment to the next, I will have honestly done my part to make the world a better place.
Unless the little crumb snatcher turns out to be a Red Sox fan.